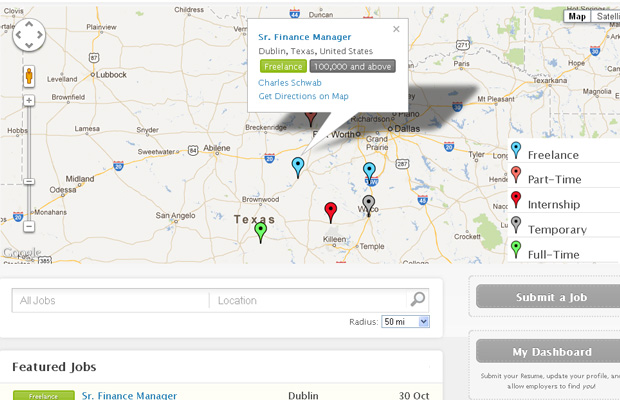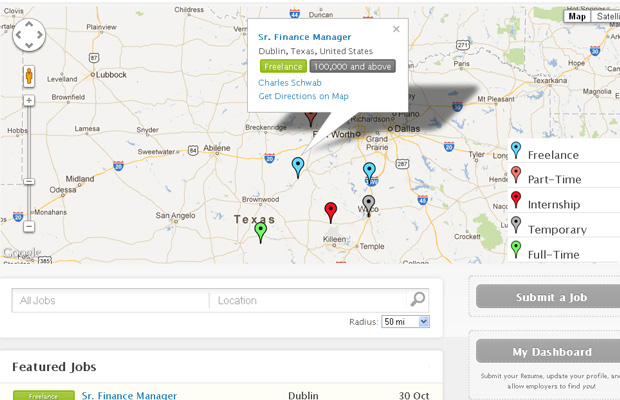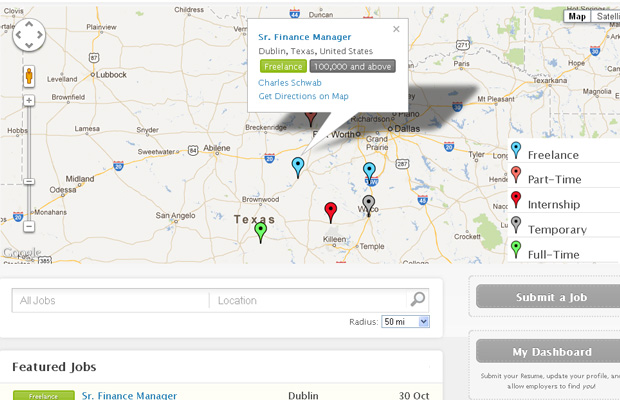 JobRoller is a online Job application theme for WordPress by Appthemes
MapRoller is plugin helps to add Google Map in the JobRoller theme through short-code or php action hook. Refer the readme.txt for more detail usage of short-code & php action hook to display google map on home page as well on category listing page.
You can set Clustered Google map with grouping Google Map with colorful Icons OR just normal google map by setting of plugin.
Map will appear for location as per the map center point of your location. The plugin also have facility to auto zoom adjust which will adjust map such a way that all pin points adjust automatically to appear in the map properly.
Plugin provide the category wise colorful & different pinpoint change setting which editable from category add/edit page. The grouping map will list all job post with colorful grouping icons and you can change icons from "icons" folder inside plugin folder.
On individual pin point click user can get job title with link, address, company with website, category type, Business get Direction …
Key Features
Google Map API 3 Version with all latest futures
Minimum java-script code written for Google map functionality
Speedy Google map data processing by data.json file cache
All job Data are store in json file (data.json) which included as script file every time
No run-time load of data process
Data json file is refresh/new data added/updated by the time of cron job you can set from plugin settings (hourly/daily…)
Totally json data code so no effect of multiple language problem
Category wise colorful & different pinpoint change setting which editable from category add/edit page
Colorful grouping icon change option by change icons from plugin folder
easily place the map in any post/page detail page by wordpress shortcode
Via usage of wordpress action hook you can place the code anywhere in php you want to show the map
How to display map on home page & category listing page and related code is given in readme.txt file with plugin
Set the map center points & zooming factor from plugin settings.
set the map height & width as per your settings while adding shortcode
Map type selection option ROADMAP/SATELLITE/HYBRID/TERRAIN
Auto zooming adjusts facility to display all points automatically in one map
You're chosen category & type data display option.
Specific category data selection option from plugin settings.
and many more…